Mae Muller: Why did the UK do so badly at the 2023 Eurovision?
Mae Muller came into Eurovision riding a wave of positivity.
Sam Ryder ended the UK's losing streak in Turin last year by doing the unthinkable – entering a decent song – and the thinking went: Why not do that again?
Mae obliged with a slick, sassy pop song that echoed recent chart trends. I Wrote A Song had the disco undercurrents of Dua Lipa, the lyrics were memorable, and it was eminently shareable on TikTok.
The public seemed to agree. Mae's song picked up tons of airplay, and more than 8 million streams on Spotify. Bookmakers predicted she'd finish in the top 10. Everyone from Ringo Starr to Lana Del Rey offered their support.
In the run-up to Eurovision, there was negative chatter about Mae's rehearsals. Her vocals were flat, insiders said, and the choreography was wooden.
But on the night, she brought out the big guns. Mae sang better than she'd done all week. Her dance moves were snappy and confident. The audience at the Liverpool Arena were ecstatic…
And then it all went wrong.
Eurovision juries gave the song 15 points. The public awarded her nine. She ended the night in 25th place, out of 26.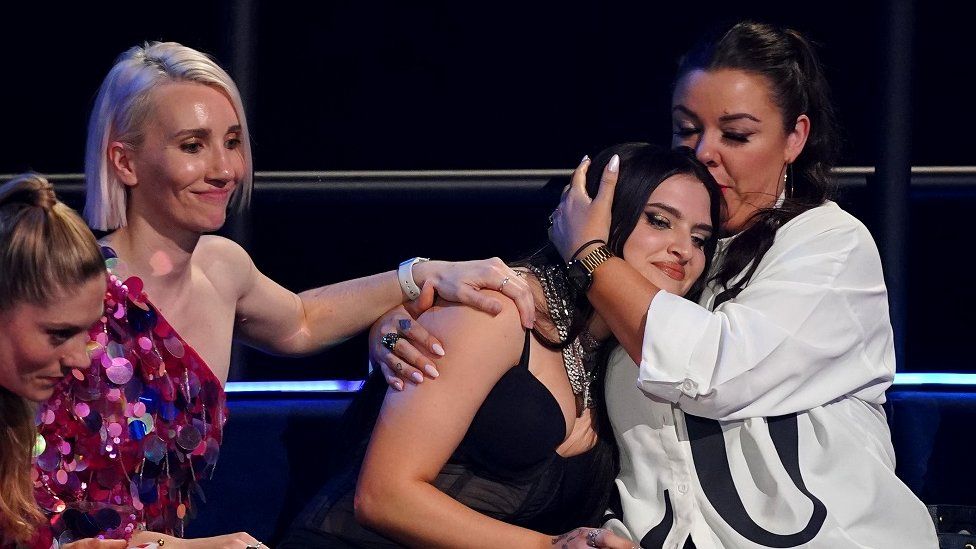 "Undeserved. Very undeserved," said Eurovision fan Craig Andrew, who watched the horror unfold at Liverpool's Euroclub.
"I thought her vocal was flawless. She was so good on the night, but what can you do?"
"I think it was much better than that, genuinely," agreed fellow fan Gaja Gazdic. "In this crowd, it was very well received."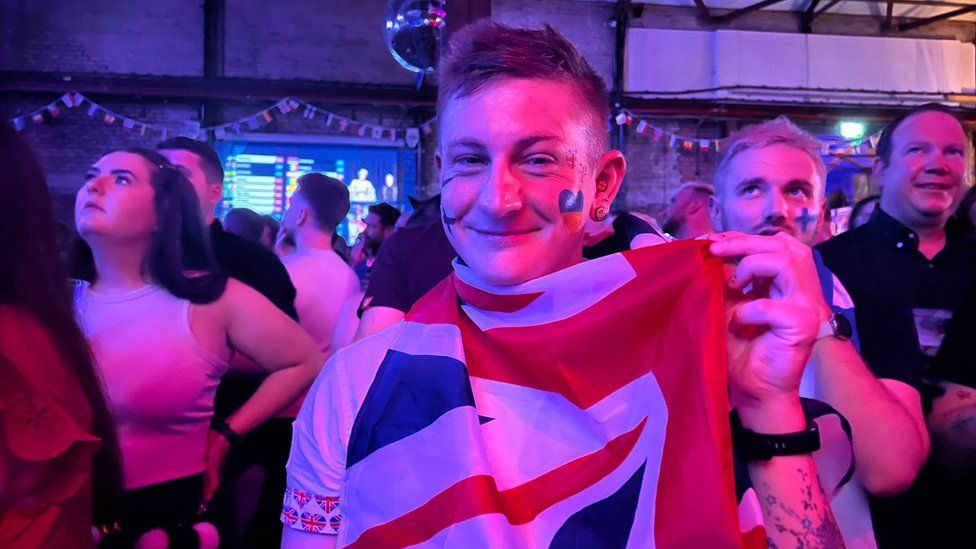 So what happened?
The first thing to remember is that no-one votes against you at Eurovision, they vote for the songs they like. And if your vibe is hyper-catchy, female-fronted pop, you were spoiled for choice.
Sweden's Loreen won the contest with the supersonic club anthem Tattoo – and Norway's Alessandra was close behind her in the public vote with Queen Of Kings, a thunderous pop anthem that was equal parts Lady Gaga and Nordic folklore.
Both of them were stronger singers, with stronger songs, than Mae, and they soaked up a lot of her potential votes.
In retrospect, there's also a peculiar Britishness to I Wrote A Song that might not have translated outside the UK.
It's a pithy, sarcastic track about taking revenge on an ex-boyfriend – not by trashing their car or burning their house down, but by writing an excoriating song about how rubbish they are.
In a contest where the top songs all featured sincere, straightforward messages about overcoming adversity and standing up for love, Mae's post-modern, meta-textual lyrics failed to find an audience.
Austria's hotly tipped Who The Hell Is Edgar? took a similar approach and met a similar fate, coming 15th.
Complexity simply isn't your friend when you've only got three minutes to make an impression.
READ ALSOZibo Barbecue: Millions bring sudden fame to Industrial Chinese City 2023
Staging problems?
In the press room, questions were also raised about the concept underlying Mae's performance. In particular, the liberal use of wide shots and Pop Art video installations meant TV audiences couldn't always appreciate the singer's cheeky charisma.
"I think it's an excellent song, but the staging wasn't great," said Ken Olausson of Sweden's QX magazine.
"The whole feeling of female power that's in the song when you hear it on the radio, it wasn't on stage.
"I don't know if they lost her in a lot of props, but the power didn't come through."
On social media, TV viewers complained that Mae's vocals had been too low in the mix.
"You could barely hear her over her music," wrote one. "Something sounded off with the sound production for Mae Muller," agreed another.
"She can obviously sing, but it all sounded quiet."
"The question you have to ask yourself is this: Was the UK performance in your top 10 tonight out of the 26 that took part?" asks Eurovisioncast's Daniel Rosney.
"If it was, then great because you would have given Mae Muller some points. But if it only just made your top 10, that's not how you win Eurovision."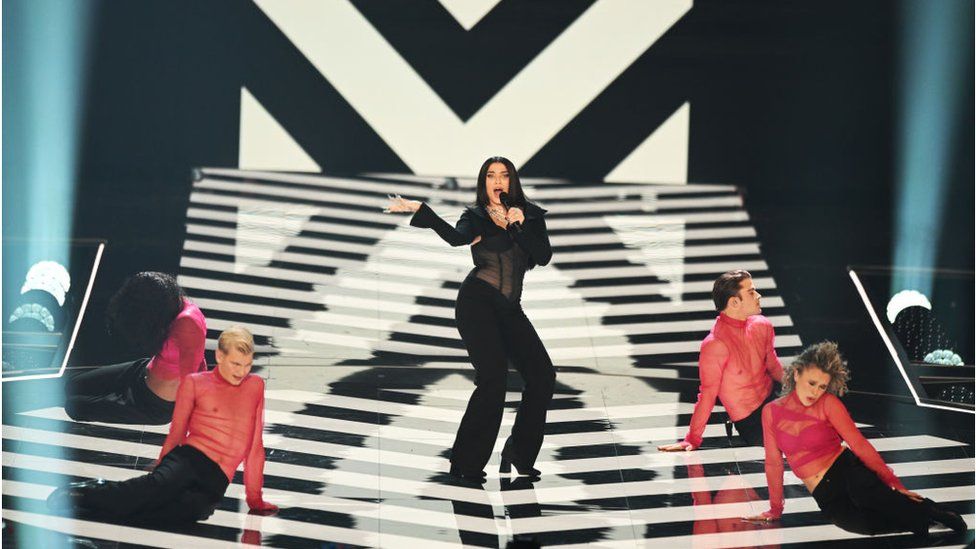 After the results were announced, Mae took to Twitter to share her thoughts.
"I know I joke a lot, but we really put our all into the last few months," she said, "Not the result we hoped for but so proud of everyone and what we achieved.
"Congrats to all the countries, I'll never forget this journey and I love you all."
You could feel her pain. She's been a great ambassador for Eurovision; and she kept up the UK's momentum of sending non-terrible songs to the contest. Some of the acts that placed ahead of her were objectively worse.
So what's next for the UK? Earlier this week, Radio 2's Eurovision commentators Scott Mills and Rylan Clark offered some perspective on the UK's Eurovision journey.
"It's impossible to repeat what happened last year, because it just doesn't happen," said Mills.
"But what we need to do is show Europe that we care and that we're taking it seriously. Mae is great, and while Europe used to say, 'Hang on a minute, why aren't the UK any good at this?' they're not saying that now."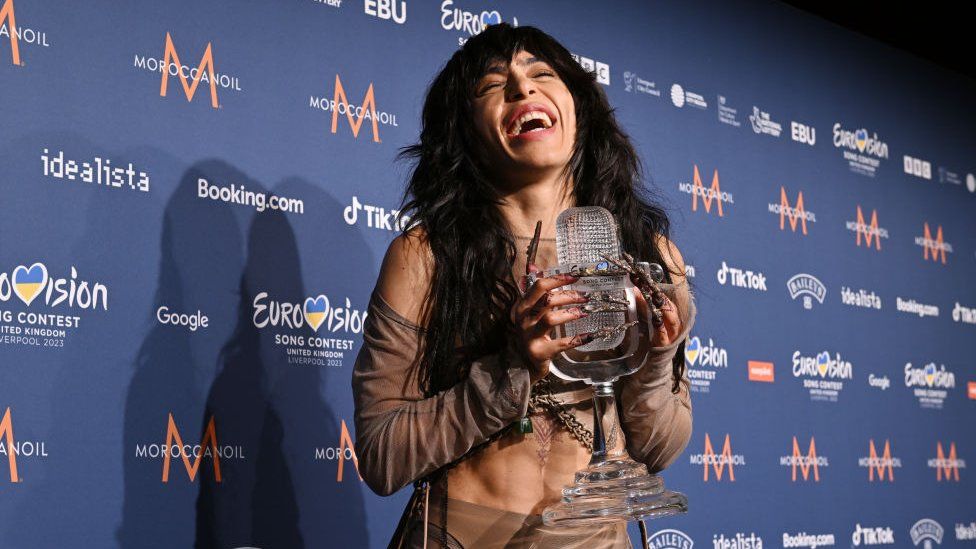 "For reasons I've never been clear on, the host country tends to struggle with points after it's success the previous year," observes Daniel Rosney.
That's especially true for Portugal: In 2017, in their 49th appearance at the contest, the country won for the first time, with Salvador Sobral's Amar Pelos Dois. The following year, they finished last.
"Things like that have always been a bit of an enigma," says Ricardo Duarte, who's been covering Eurovision for Portuguese queer website Dezanove.
"But we persevered. We continued. We did not qualify the year after – but we got 12th place in 2021 and ninth place in 2022.
"We've had our ups and downs, and so will every other country."
And that's the message Mae and the team behind the BBC's Eurovision bid will need to bear in mind today. Outside the bubble of the contest, Mae's song has been a hit. She's a ready-made pop star, who just performed to a global TV audience of more than 160 million people.
This won't be the last we've heard of her.